Biofeedback Devices
Click Here — Learn more about biofeedback and watch thousands of SCI videos on SPINALpedia!
Determined2Heal Tips:
NeuroMove 900 This biofeedback device is an incredible product for the reeducation of weakened nerve signals. Biofeedback devices are able to measure how weak or how powerful a neurological signal is.The machine has two different settings for measuring neurological signals. Neurological signals are made when voluntarily muscle contractions occur.
This device is made for people with neurological damage, specifically people affected with strokes and spinal cord injuries. The machine has two modes stroke and spinal cord injury.
The stroke mode is for a muscle or a nerve that is working but not at 100%. It creates a threshold that needs a full muscle contraction.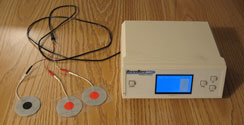 The spinal cord injury mode is able to measure very weak neurological signals, the smallest contraction of a muscle is recognized by the machine.
Based upon the specific achievable threshold that an individual sets, which needs to be a threshold that is achievable at a person specific neurological muscle group.
The device picks up the faintest of signals and is able to immediately reward the individual's muscle and nerve with electrical stimulation that provides a educational feedback. This educational feedback helps to reeducate the nerve to function as it once did.