Technology
Click Here — Learn more about technology and watch thousands of SCI videos on SPINALpedia!
Determined2Heal Tips:
Technology is advancing faster and faster. Technology has no constraints except money and time. Currently, the medical industry is moving towards more technologically oriented procedures and research, which are continuing to provide more and more promise for injuries such as paralysis.
Technology is not restricted by regulations and therefore it holds the most potential for a time efficient cure. There is no doubt my mind that if science does not cure us, technology will. The race is on.
Below are some technologically advanced products coming out on the market:
| | |
| --- | --- |
| Hal-5 Hybrid Assistive Limb, it is a robotic exoskeleton that gives an extra boost for walking and climbing movements | |
| | |
| --- | --- |
| Bionic Eye Will Let the Blind See After reading this article, I began to wonder if they can get blind people to see with computer chips why can't they re-connect the spinal cord with a computer chip. | |
| | |
| --- | --- |
| Lokomat The Lokomat is a motor driven exoskeleton device that mimics walking, with the support of a harness the body is suspended over a treadmill. | Click Here to Watch a Video |
Functional Electrical Stimulation (FES) Bicycle/Arm Cycle Restorative Therapy, Inc. focuses on developing rehab equipment for the home that will help to regenerate damaged nerve cells through patterned neural activity below one's level of injury.
RT-300 – RTI makes a Functional Electro Stimulation bicycle. I recommend this for anyone with a spinal cord injury or nerve damage. The thing that I like the most about this product is that you can wheel up to it in your wheelchair (power wheelchair or manual wheelchair).
They have great customer service. When I got the FES bike, RTI reps came out to the house, set it up and trained me and my caregiver how to use it.
This is my favorite piece of equipment in my house. It gives me a cardiovascular workout, reduces my spasticity, increases my blood flow, and increases my muscle mass. Through the Restorative Therapy Program at the Kennedy Krieger Institute in Baltimore, Maryland, I have been able to transition to an incomplete and contract muscles throughout my entire body.
They also have a motorized arm cycle, which can be added to the RT 300.
The arm cycle is unique because it provides motor support forward and backwards. It also can be programmed on the touchscreen with resistance for both forward and backwards. You can change resistance settings according to your needs.
The arm cycle has helped me to strengthen my upper extremities. Two years post-injury for the first time I was able to push myself around the house in a manual wheelchair.
Biofeedback Devices
NeuroMove 900 This Biofeedback device is an incredible product for the reeducation of weakend nerve signals. Biofeedback devices are able to measure how weak or how powerful a neurological signal is.The machine has two different settings for measuring neurological signals.
Neurological signals are made when voluntarily muscle contractions occur.This device is made for people with neurological damage, specifically people affected with strokes and spinal cord injuries. The machine has two modes stroke and spinal cord injury.
The stroke mode is for a muscle or a nerve that is working but not at 100%. It creates a threshold that needs a full muscle contraction.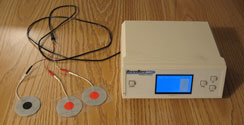 The spinal cord injury mode is able to measure very weak neurological signals, the smallest contraction of a muscle is recognized by the machine.
Based upon the specific achievable threshold that an individual sets, which needs to be a threshold that is achievable at a person specific neurological muscle group.
The device picks up the faintest of signals and is able to immediately reward the individual's muscle and nerve with electrical stimulation that provides a educational feedback. This educational feedback helps to reeducate the nerve to function as it once did.
REX P – The world's first wearable exoskeleton for home-use, REX allows those with cervical injuries to independently use an exoskeleton thanks to it's joystick-driven ability.
Custom built for the individual, REX P opens up a world of social, recreational and work opportunities as your mobility is enhanced.REX P is completely self-supporting, giving you the freedom to use your hands, whilst remaining stable and balanced.